BACK TO NEWS
Non-Profit | March 18, 2020
We are HERE for you: Root & Rebound's Response to COVID-19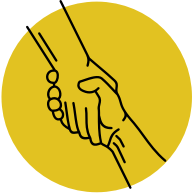 [Updated April 1, 2020 at 3:35 p.m. PT]
Please continue to check this page often for updates.
On this page, you will find information about Root & Rebound's response to coronavirus (COVID-19) as it impacts formerly incarcerated, currently incarcerated, and justice impacted people and their families — the communities we serve in California, South Carolina, and across the United States. We will be updating this page at least weekly, throughout the duration of the COVID-19 pandemic. You'll find…
Information on how we are continuing to provide access to our legal services to support justice system-impacted people, including currently and formerly incarcerated people and their families.
Information about the

advocacy efforts

we are involved in at the state, local, and federal levels to protect the rights and lives of the communities we serve.
Information and links to

community resources and legal protections

that might be helpful to our clients and those who support them–and that also explain new and evolving protections in place at the local and state level with regard to housing, employment, and financial wellness.
——————————————————————–
Dear Beloved Community:
Given the current coronavirus (COVID-19) pandemic and its impact on you, your families, our supporters, and the nonprofit community, we wanted to share what Root & Rebound is doing to support justice system-impacted people, continue our services, and keep our staff, clients, and community safe and healthy.
If you have any questions or need support during this difficult time, please call us at 510-279-4662 or email us at info@rootandrebound.org (general/California) or at southcarolina@rootandrebound.org (South Carolina).

Root & Rebound's Legal Services
The most important thing for our community to know: We are NOT closing. Our legal team continues to be available to you. Keep reading to learn how we will continue to make our legal support accessible and available.
Root & Rebound's California and South Carolina services will be offered remotely (through phone, video and mail) in an effort to mitigate the spread of COVID-19. We are taking these precautions because social distancing is one of the most effective tools for slowing the spread and transmission of the virus, and this adjustment can help prevent our hospital systems from becoming overloaded.
During times of emergency, we know that justice system-impacted people, especially currently incarcerated people, are particularly vulnerable and need Root & Rebound to be available and ready as a team of strong advocates.
Here's how we are remaining highly accessible to our community, as well as adjustments to be aware of:

CALIFORNIA: Our California legal team will continue to operate our free Reentry Legal Hotline every Friday from 9 AM – 5 PM PT at our main phone number: 510-279-4662. Our hotline is free and open to anyone in California with a reentry-related legal issue, question, or concern, including those who are currently incarcerated. Root & Rebound will continue to accept and pay for calls from people inside prison and jail. You may also email our California legal team at info@rootandrebound.org
SOUTH CAROLINA: Our "email hotline" in South Carolina remains strong and operational. You can reach us at southcarolina@rootandrebound.org for reentry-related issues and legal questions.
Adjustments:

Friday, March 20th was our first time operating the California Reentry Legal Hotline outside of our headquarters office. Our amazing team is taking hotline calls remotely. If for any reason, your call does not get through on the first attempt, please call us back at 510-279-4662, so we can be sure that technical issues don't stop you from reaching a Root & Rebound advocate.
We will take urgent and sensitive calls Monday – Thursday, where clients identify emergency issues.
Root & Rebound is always looking for creative ways to bring our legal support to people impacted by the justice system, and people facing discrimination because of their arrest or conviction history. We are known for our community legal clinics to help people overcome barriers because of their past system involvement. In California, we have upcoming clinics for the Central Valley, Oakland, and Tribal Communities in the next two months. These will continue as remote clinics.
Adjustments:

Our goal is to continue to operate all of our planned community reentry legal clinics through remote support, by setting up phone and video conferencing appointments with both new and existing clients.
** Please note: If you currently have an appointment for our March 21st clinic in Fresno, we will be contacting you to schedule a phone- or video-conferencing appointment with you. You can also contact Root & Rebound at 510-279-4662.**
People seeking Root & Rebound's reentry legal support can continue to write us legal mail at our office address at Root & Rebound, 1730 Franklin Street, Suite 300, Oakland, CA 92612, which we will pick up on a weekly basis.
In order to protect the health of our clients, staff, volunteers, and community, we cannot accept public visitors, including any drop-ins or walk-ins, at our office locations for the time being. We will let you know when this changes.
—
Root & Rebound's Advocacy Response
We are advocating as strongly as ever for policy reform that puts the needs of system-impacted communities front and center.
This includes our continued fight to reform occupational licensing laws, remove higher education barriers, rework parole and probation systems, ensure protection for housing, enforce the Fair Chance Act, and many other political actions to protect the well-being of our clients.
Right now, during this critical time, we are joining national and statewide calls in California and South Carolina, and TAKING ACTION to reduce the number of people in prisons and jails, protect people under parole and probation supervision, and advocate for the health and safety of justice-impacted people. Currently and formerly incarcerated people matter, their lives matter, their families matter, and we will never cease in fighting for their safety and well-being.
Read the letter that Root & Rebound wrote with 60+ organizations and advocates joining us to California leaders including the directors of Parole and Probation agencies across the state, outlining critical steps the state needs to take to protect people on supervision, their families, and public health. We are calling for the following actions:

Parole and Probation must reduce and suspend in-person meetings to limit risk and exposure to COVID-19.
Allow people on supervision to live with family — both to give and to receive care as well as to open up spaces in transitional homes. Open up housing to people who need it most.
Provide proactive support to people on Parole and Probation – including support with housing, financial assistance, health care access, obtaining prescriptions, and obtaining ID, and allowing Internet access.
Offer Early Discharge from Parole and Early Termination of Probation for people who meet specific criteria.
Expedite Grants of Parole.
Stop enforcement of technical violations and unreasonable conditions to reduce entrance into the County Jail and State Prison systems.
CDCR, County Jails, Parole and Probation shall not contact ICE, notify ICE of people's release dates, or facilitate any immigration enforcement action against any person.
Develop clear and remotely accessible protocols and procedures for people to submit grievances to Parole and Probation agencies.
Modify Electronic Monitoring / GPS conditions and Special Registration requirements.
Suspend all criminal justice-related debts, fines and fees.
Read the letter we signed onto to California Governor Gavin Newsom and key members of his team, calling for 6 actions:

Release all medically fragile adults and adults over the age of 60 to parole supervision.
Release all people who have anticipated release dates in 2020 and 2021 to parole supervision.
Expedite all review processes for people already found suitable for release, lift holds, and expedite the commutation process.
Immediately suspend all unnecessary parole meetings.
Eliminate parole revocations for technical violations.
Lift all fees for calls to family members.
Insist that CDCR adequately address how they will care for people who are incarcerated.
Political actions to combat the negative impact of COVID-19 on currently incarcerated people and justice-impacted people are happening across many states and the entire country. You can learn more about these policy efforts from our partner, The Justice Collaborative, at their website linked here.
Read the letter Root & Rebound and our partner Soteria CDC wrote to South Carolina Governor McMaster, Attorney General Wilson, SCDC Director Adger, and other criminal justice system stakeholders including Solicitors and Defense Attorneys, advocating for a swift response to protect incarcerated individuals across the state.
ACLU calls for release of people in prison and immigration detention who are vulnerable to COVID-19: see article linked here.
We will continue to share advocacy efforts with you – and opportunities to join in calls for ACTION in California, South Carolina, and nationally.
Community Resources & Legal Protections
We are not alone in addressing the needs of system-impacted people during this time. Below are some great resources. We will continue to update this resource list through this page.
California:

DMV — check out website (linked here) for up-to-date information about delay for in-person appointments, delay of driving tests, etc.
Voting: The following Special Elections will use vote-by-mail procedures following an Executive Order by the Governor (issued March 20, 2020)

City of Westminster, Orange County on April 7
National:
California:
Governor Newsom issued an executive order with some extra protections for tenants if they can't pay rent due to COVID-19 (see the order here) — BUT UNFORTUNATELY, it's not as strong as it sounds. Read our partner's analysis of the disappointing order linked here.
Many cities and counties in California have passed local policies to protect renters against evictions during COVID-19.
To find out if there are new protections for tenants where you live, first check out a trusted government website like your City Mayor's webpage, County's government website, and local County Superior Court's website. You can also search for any COVID-19 Emergency Tenant Protections in your area through the Anti-Eviction Mapping Project's website, linked here.
In California, local governments that have passed eviction restrictions and other legal protections — each different from the next — for tenants during COVID-19 include the following: Agoura Hills, Alameda (City), Alameda (County), Alhambra, Anaheim (Ordinance; additional information available here), Arcata, Baldwin Park, Benicia, Berkeley, Beverly Hills, Burbank, Camarillo, Chula Vista, Clearlake, Costa Mesa, Culver City, Davis (additional information available here), Delano, Duarte, Elk Grove, El Monte, Emeryville, City of Fresno (Ordinance), County of FresnoGarden Grove, Glendale, Goleta, Grass Valley, Hayward, Inglewood La Verne, Long Beach, City of Los Angeles (additional information available here), County of Los Angeles (Order), Marin (County) (additional information available here), Moorpark, Monterey (County), Mountain View, Nevada City, Nevada (County), Oakland, Ojai, Oxnard, Palm Springs, Palo Alto, Pasadena, Pomona, Rancho Cucamonga, Redlands, Richmond, Rosemead, Sacramento (City) (Ordinance), Sacramento (County), San Bernardino (City), San Bernardino (County), San Diego (City) (Ordinance), San Diego (County), San Francisco, San Joaquin (County), San Jose (Ordinance), San Leandro, San Luis Obispo (County), San Mateo (County), Santa Ana (Ordinance), Santa Barbara (City), Santa Barbara (County), Santa Clara (County), Santa Cruz (City), Santa Cruz (County), Santa Monica, Scotts Valley, Shasta (County), Simi Valley (additional information available here), Sonoma (County), South Pasadena, Stockton, Thousand Oaks, Union City, Vallejo, Watsonville (additional information available here), West Hollywood, West Sacramento, Whittier, Woodland, Yolo (County)
Other Bay Area resources related to housing:
South Carolina:

The Chief justice in South Carolina has halted eviction proceedings until May 1st, except in "matters that involve essential services and/or harm to person or property." A copy of the order is linked here.
California

:

South Carolina

:

South Carolina Department of Corrections (SCDC) is posting updates about its response to COVID-10 is posted online here.
National:
California:
SHARE ARTICLE
Sign Up
Join our mailing list.