Free Reentry Legal Clinics in Humboldt and Del Norte Counties
Where
Jefferson St. Community Center Clinic
Tuesday, April 19, 2002, 11 am - 2 pm
1000 B St, Eureka, CA 95501

Hupa Family Resource Center Clinic
Tuesday April 19, 2022, 5 pm - 7 pm
82 Willow Ln, Hoopa, CA 95546

Crescent City Clinic
Wednesday, April 20, 2022, 10 am - 1 pm
College of the Redwoods
884 W. Washington Blvd., Crescent City, CA 95531

Klamath Clinic
Wednesday, April 20, 3 pm - 5 pm
230 Klamath Blvd., Klamath, CA 95548
Root & Rebound will be partnering with Hupa Family Resource Center, the Yurok Reentry Program, Humboldt State's Project Rebound, and Jefferson Community Center to provide free legal services for people who have a conviction and/or arrest record in California.
These clinics will provide information on employment rights with a conviction, new laws that lower court ordered debt, and the expungement process. We can also provide one-on-one legal information and assist in getting a copy of your RAP sheet (the first step in getting an expungement). If you would like to get a RAP sheet, please bring a government-issued photo ID.
For more information please view our April Clinics Flyer.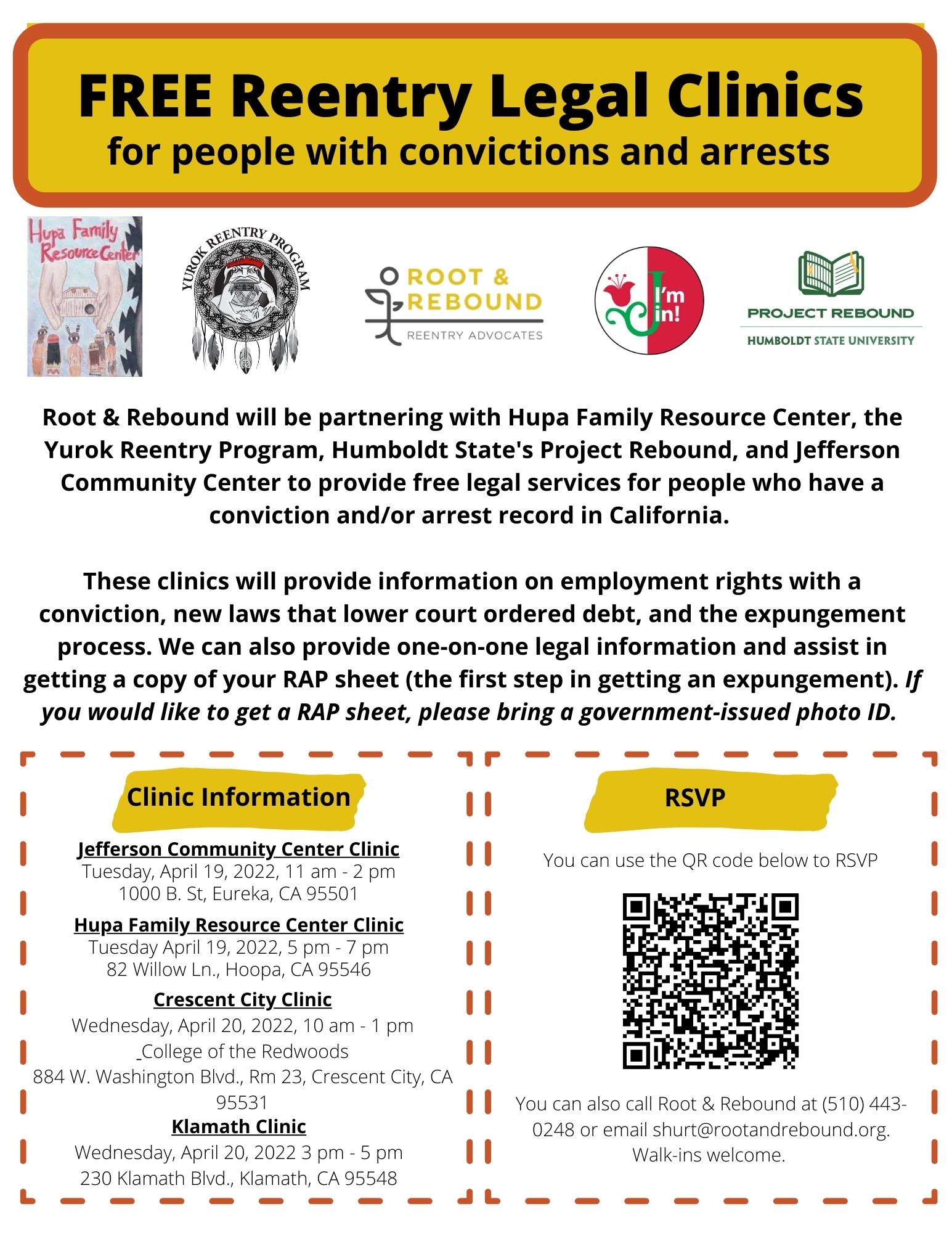 When
Tuesday, Apr 19, 2022
Where
Jefferson St. Community Center Clinic
Tuesday, April 19, 2002, 11 am - 2 pm
1000 B St, Eureka, CA 95501
Hupa Family Resource Center Clinic
Tuesday April 19, 2022, 5 pm - 7 pm
82 Willow Ln, Hoopa, CA 95546
Crescent City Clinic
Wednesday, April 20, 2022, 10 am - 1 pm
College of the Redwoods
884 W. Washington Blvd., Crescent City, CA 95531
Klamath Clinic
Wednesday, April 20, 3 pm - 5 pm
230 Klamath Blvd., Klamath, CA 95548
Free Reentry Legal Clinics in Humboldt and Del Norte Counties
Root & Rebound will be partnering with Hupa Family Resource Center, the Yurok Reentry Program, […]
Jefferson St. Community Center Clinic
Tuesday, April 19, 2002, 11 am - 2 pm
1000 B St, Eureka, CA 95501
Hupa Family Resource Center Clinic
Tuesday April 19, 2022, 5 pm - 7 pm
82 Willow Ln, Hoopa, CA 95546
Crescent City Clinic
Wednesday, April 20, 2022, 10 am - 1 pm
College of the Redwoods
884 W. Washington Blvd., Crescent City, CA 95531
Klamath Clinic
Wednesday, April 20, 3 pm - 5 pm
230 Klamath Blvd., Klamath, CA 95548
RSVP
Free Reentry Legal Clinics in Humboldt and Del Norte Counties
Jefferson St. Community Center Clinic
Tuesday, April 19, 2002, 11 am - 2 pm
1000 B St, Eureka, CA 95501

Hupa Family Resource Center Clinic
Tuesday April 19, 2022, 5 pm - 7 pm
82 Willow Ln, Hoopa, CA 95546

Crescent City Clinic
Wednesday, April 20, 2022, 10 am - 1 pm
College of the Redwoods
884 W. Washington Blvd., Crescent City, CA 95531

Klamath Clinic
Wednesday, April 20, 3 pm - 5 pm
230 Klamath Blvd., Klamath, CA 95548
Root & Rebound will be partnering with Hupa Family Resource Center, the Yurok Reentry Program, […]
Employer Training: Fair Chance Hiring
R&R is hosting a virtual Fair Chance Hiring training on Tuesday, March 29th from 3-5pm, […]
Employer Training: Fair Chance Hiring
via Zoom webinar
R&R is hosting a virtual Fair Chance Hiring training on Tuesday, March 29th from 3-5pm, […]
Expungement Workshop with Yuba County One Stop Center
For more information, contact: Meridith Tynes at (530) 749-4962. Please leave a detailed message if […]
https://us02web.zoom.us/j/87149284278?pwd=bHFWTklBN1VjeWlva29qcnNwK1Zodz09#success
Meeting ID: 871 4928 4278
Passcode: 3cE9Kc
RSVP
Expungement Workshop with Yuba County One Stop Center
https://us02web.zoom.us/j/87149284278?pwd=bHFWTklBN1VjeWlva29qcnNwK1Zodz09#success

Meeting ID: 871 4928 4278
Passcode: 3cE9Kc
For more information, contact: Meridith Tynes at (530) 749-4962. Please leave a detailed message if […]