BACK TO NEWS
Root & Rebound and Partners Launch Fair Chance Hiring Toolkit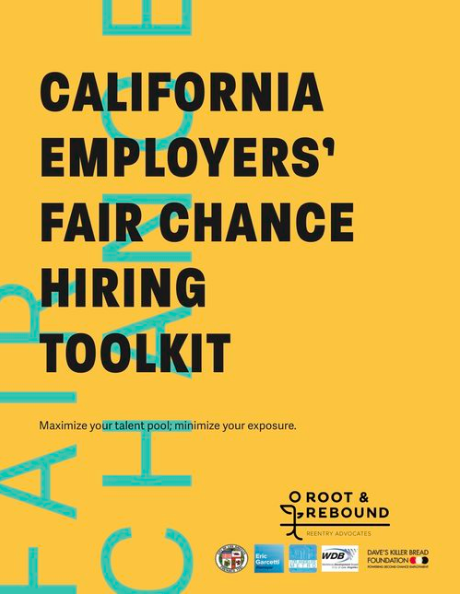 Root & Rebound and Partners Launch Toolkit on 'Fair Chance' HiringLaws for California Business Community
Cross-Sector Partnership Educates Employers on Hiring and Retaining Talented Workers with Records
Oakland, California, October 4, 2016 – Root & Rebound, a reentry legal resource center based in Oakland, California, launched the first-ever Fair Chance Hiring Toolkit and training program to empower California employers to fairly and lawfully hire talented workers with criminal records, in partnership with the Los Angeles' Mayor's Office, the Los Angeles Metro Employer Advisory Council, the City of Los Angeles Workforce Development Board, and Dave's Killer Bread Foundation. The brand new toolkit was also informed by a cross-sector advisory group of nationwide employment advocates, consumer reporting agency professionals, corporate management, corporate counsel, and government representatives. With more than 1 in 4 Californians living with a criminal record, and complex laws impacting the employment rights of previously incarcerated job applicants, there is an increasing need for California employers, H.R. departments, corporate counsel, and workforce development professionals to know how to fairly and lawfully evaluate such applicants to increase their talent pool and meet their legal obligations.
The California Employers' Fair Chance Hiring toolkit and trainings are part of the larger national effort to increase employment and economic opportunities for the 70 to 100 million Americans living with a criminal record, who are disproportionately low-income and people of color, and face enormous barriers to fair-paying and stable work, as well as other cornerstones of stability like housing, family, and educational opportunity. Today in California alone, 70,000 individuals arereleased from prison each year, with many more returning home from county jail—a pool of workers that employers cannot ignore.
"We hope that the toolkit encourages California employers to explore how they can increase their talent pool and retain loyal employees eager for opportunity and a fair chance at work," explained Root & Rebound Executive Director Katherine Katcher. "As a reentry legal resource center, Root & Rebound sees the business community as a critical contributor to economic stability and success that will help our society reverse the devastating impacts of mass incarceration and boost our nation's economy. We are committed to working with employers to improve their employment practices and encourage fair and inclusive hiring decision-making."
Trainings on the toolkit launched on September 22, 2016 at WeWork in Los Angeles, where Root & Rebound trained over 50 employers (public and private) and 54 workforce development professionals across Southern California on common issues that arise in considering and hiring people with records. At the launch training in Los Angeles, Deputy Mayor Brenda Shockley, State Assemblymember Reggie Jones-Sawyer, WeWork Director of Public Policy Padden Murphy, Executive Director of Center for Living and Learning Maria Alexander, and Human Resources Director of Four Star Chemical Rebeca Valdez, all provided remarks lauding the new toolkit and trainings.
Employment is one of the most critical factors in significantly reducing the chances of recidivism, and many people under community supervision are re-incarcerated because they cannot meet the requirement to hold a job. The impact on the U.S. economy is devastating: our country lost as much as $87 billion in our gross domestic product (GDP) due to barriers to employment facing formerly incarcerated people and people with felony convictions. Yet emerging research shows that people with records tend to be more loyal and perform equal to their counterparts without convictions. Criminal justice reform has also become an increasingly relevant and bipartisan effort, with organizations like the American Civil Liberties Union and Koch Industries working together to reduce unnecessary incarceration. California's business community can also be a key contributor to reform by hiring from this untapped pool of talent.
The California Employers' Fair Chance Hiring Toolkit walks employers—whether public or private, small or large—through the process of lawfully and fairly considering job applicants with criminal records, to maximize the talent pool and minimize exposure to liability. The toolkit also shares practical "Action Steps" designed for readers to translate this brand new written resource into successful next steps that they can bring back to their companies.
The California Employers' Fair Chance Hiring Toolkit is available for free online at:www.rootandrebound.org/roadmap and http://www.rootandrebound.org/ca-fair-chance-toolkit orhttp://bit.ly/CAemployerstoolkit. It is also available in print for $10 per copy.
CONTACT ROOT & REBOUND TO TRAIN YOUR COMPANY ON FAIR CHANCE HIRING LAWS & RESOURCES:
Root & Rebound invites California's business and workforce development community to contact us for training and consultation on fair chance hiring for your company.
Find social media campaign at #CAfairchancehiring. Tweet @ROOTandREBOUND. Facebook @rootandrebound.
MEDIA CONTACT: Aiasha Khalid, Deputy Director of Strategy & Impact, Root & Rebound
Phone Number: (510) 279-4662
Email: [email protected]
Website: www.rootandrebound.org
SHARE ARTICLE
Sign Up
Join our mailing list.