BACK TO NEWS
As Prisoners, They Can Help Fight California's Huge Wildfires. As Free People, They're Banned From Being Firefighters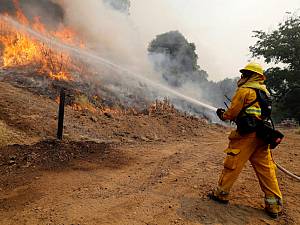 "The persistent, horrific wildfires year after year make this human rights issue even more pressing for the men and women fighting these fires every day who cannot do so once released," says Katherine Katcher, founder and executive director of Root and Rebound, a California-based nonprofit that helps the formerly incarcerated find jobs after getting out of prison. Katcher tells Reason that the state's discriminatory licensing rules "shut people out of living wage careers that they are trained and qualified for solely because of old, expunged, and irrelevant convictions".
Source: https://reason.com/2018/08/09/inmates-are-helping-fight-californias-ma/
SHARE ARTICLE
Sign Up
Join our mailing list.