BACK TO NEWS
Newsom Signs Law Paving Way for Former Inmates to Become Professional Firefighters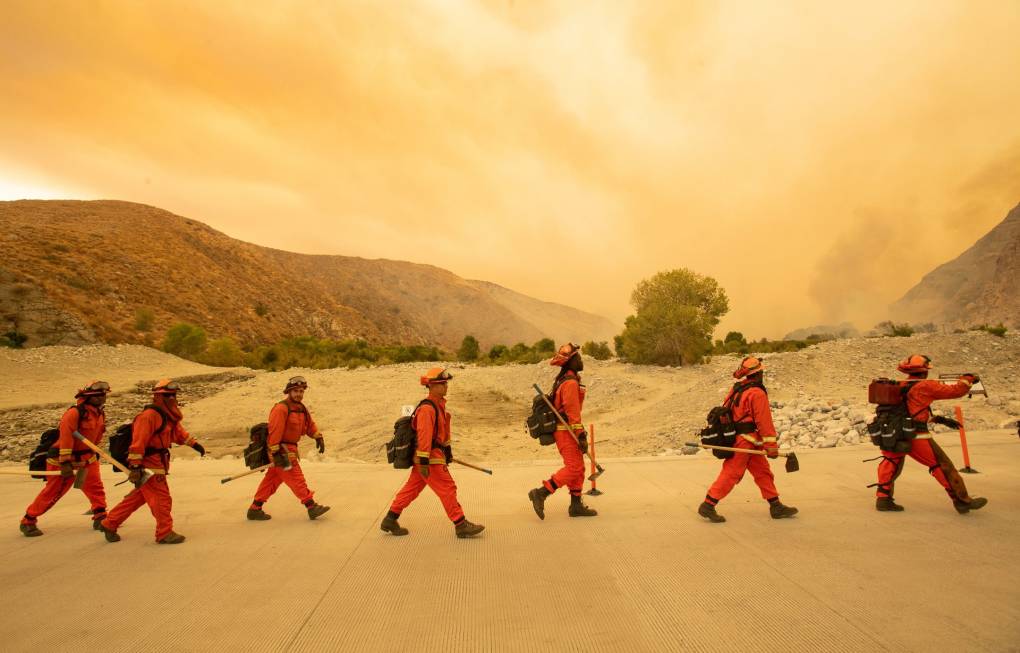 Sitting in a cloud of wildfire smoke at the site of the massive North Complex fire in Butte County, Gov. Gavin Newsom signed a law Friday that dramatically expands opportunities for members of inmate firefighting crews to be hired as professional firefighters after their release from prison.
Former prisoners who come out of the California Department of Corrections and Rehabilitation fire training program can now petition a judge to have their records more quickly expunged — setting aside their convictions — a process that would allow them to obtain EMT certification and other licenses required for employment at many municipal fire agencies in California.
Newsom said the new law — Assembly Bill 2147 — will give the more than 1,000 prisoners who are currently fighting fires "opportunity and hope" of a long-term, sustainable firefighting career after their release.
"This bill that I'm about to sign will give those prisoners hope of actually getting a job in the profession that they've been trained (in)," he said, moments before signing the bill against the stark backdrop of charred forest.
The new law only applies to those who have completed the prison firefighting program and excludes anyone convicted of a sex offense or violent felony.Sponsored
"They've been trained and have actively participated in heroic ways," Newsom said. "Their suppression efforts are demonstrable when you see them."
The use of inmate firefighters in dangerous wildfires has long been criticized by criminal justice advocates, who note that inmates are paid a minuscule wage of just a few dollars a day — plus an additional $1 per hour when they are fighting fires — and then face an uphill battle landing a civilian firefighting job after their release.
That debate reached a fever pitch last month, when an overwhelming succession of massive wildfires exploded throughout California.
Until very recently, a majority of the state's inmate firefighters were sidelined because of COVID-19 concerns — with many either in isolation or granted early release. The sheer number of concurrent blazes and the absence of inmate crews has left firefighting efforts dangerously shorthanded.
California's response has been hampered, in particular, by a lack of prisoner hand crews, each typically made up of 12 to 16 trained inmates who perform grueling chainsaw work, often in oppressive heat, as they hack through thick coyote brush, manzanita and other vegetation to create containment perimeters around fires.
"This is great and it gives us all an opportunity," Samantha Vetter, a former inmate firefighter, said in response to the new law. "I'm definitely going to try and get my record expunged so I can try and get hired as soon as possible."
Vetter was stationed at the Puerta La Cruz Conservation Camp in Southern California until a few months ago, and spent the early part of the fire season with an all-female inmate crew battling fires in Southern California up until her early release in July.
She returned home to Santa Cruz County with the goal of becoming a firefighter.
But when the CZU Lightning Complex erupted nearby, all she could do was watch the images online.
"My hometown is on fire right now," she said at the time. "It's hard sitting here knowing that the ash that's raining down on me now is the redwoods that I grew up around, burning up."
Some inmate advocates, however, note that while the measure is definitely a step in the right direction, it still falls short of the comprehensive reentry and criminal justice reform they say is urgently needed in California.
"AB 2147 is an important first step in recognizing the crucial work incarcerated and formerly incarcerated individuals provide to our communities, but there is more work to be done," Sonja Tonnesen, deputy director at Root & Rebound, a program that advocates for former inmates reentering society, said in a statement.
But the bill, she added, "does not lift the blanket bans to EMT licensure in California — a key barrier to firefighting jobs at the county and municipal levels that provide family-supporting wages, benefits and job security. Many formerly incarcerated people will continue to be unable to get their EMT certification."
SOURCE: KQED
SHARE ARTICLE
Sign Up
Join our mailing list.