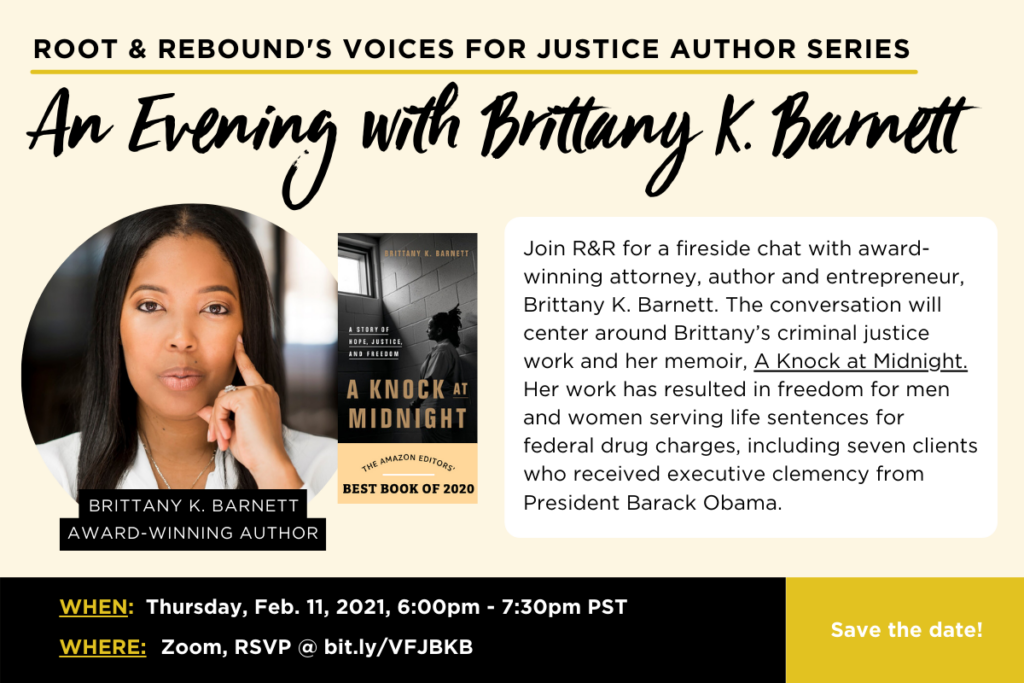 Root & Rebound's Voices for Justice Author Series presents An Evening with Brittany K. Barnett.
Join Root & Rebound for a fireside chat with attorney, author and entrepreneur, Brittany K. Barnett, R&R's Founder & Executive Director, Katherine Katcher, and R&R's Deputy Director of Strategic Partnerships, Damali Robertson. The conversation will center around Brittany's criminal justice work and her memoir, A Knock at Midnight, which was selected as Amazon's 2020 Best Book of the Year.
This is a community appreciation event as part of our Voices for Justice Author Series. Attendance is completely free. To fully enjoy and engage in the conversation, you have plenty of time to order Brittany's book in advance.
Save the date! Click below to add this event to your calendar:
---
Brittany's book, A Knock at Midnight, Amazon's 2020 Best Book of the Year, shares stories of everyday people who have found themselves behind bars thanks to the War on Drugs. Brittany Barnett is a real-life legal super hero. She has single-handedly won executive clemency for nine clients facing life sentences on drug charges including Sharanda Jones, Corey Jacobs, Alice Johnson, among others. A Knock at Midnight details the rampant use of sentencing enhancements, three strikes laws, plea agreements and witness manipulation to fuel a crippling system built on unequal justice. Each of these people would have died in prison for a mistake or questionable choice had it not been for Brittany's work.
Today, 3923 people in the United States are serving life sentences without the possibility of parole for federal drug offenses. 80% of them are people of color. According to the ACLU, at least 69 people are serving life sentences on Cannabis charges. Additionally, "around 40,000 people are currently serving time for offenses involving a drug that has been decriminalized or legalized in 27 states and Washington, DC." We are hosting this important conversation with Brittany to raise awareness about the daily practice of locking people away. We believe there are alternatives to incarceration. We are making a case for reform.
As the Biden-Harris administration begins the most important term in modern American history, we hope a conversation like this one will illuminate the critical need to dismantle and rebuild the criminal legal system, to create equal justice for all.
---

Interested in partnering with us as an event sponsor? Contact Lupita Garcia, Associate of Strategic Partnerships, at

[email protected]

for more details.